When we last left off on the reality show version of 'Choosing A Favorite Whole Wheat Bread', I was lamenting the Sam's Test Kitchen (STK) bread that I completely screwed up, but it turned out to be a pretty yummy bread. Still warm from the oven and glazed with melted butter, it was really great. I was so proud of how I turned my whole day around and saved the bread.
24 hours later— my testers tried the STK and phrases like, 'weird highland park sour beasties' and 'notes of floor cleaner' were being tossed around.
So just goes to show you how deceiving a warm loaf of bread can be!
Those thoughts came at the end of a 9-loaf bread tasting that had one person say, 'I'm never eating bread again.'
My idea was for a massive tasting event: invite a bunch of people over and have us all taste together, plain, toasted with and without butter. In the end there were 3 judges and a row of loaves waiting to be sliced.
Let's meet our contestants: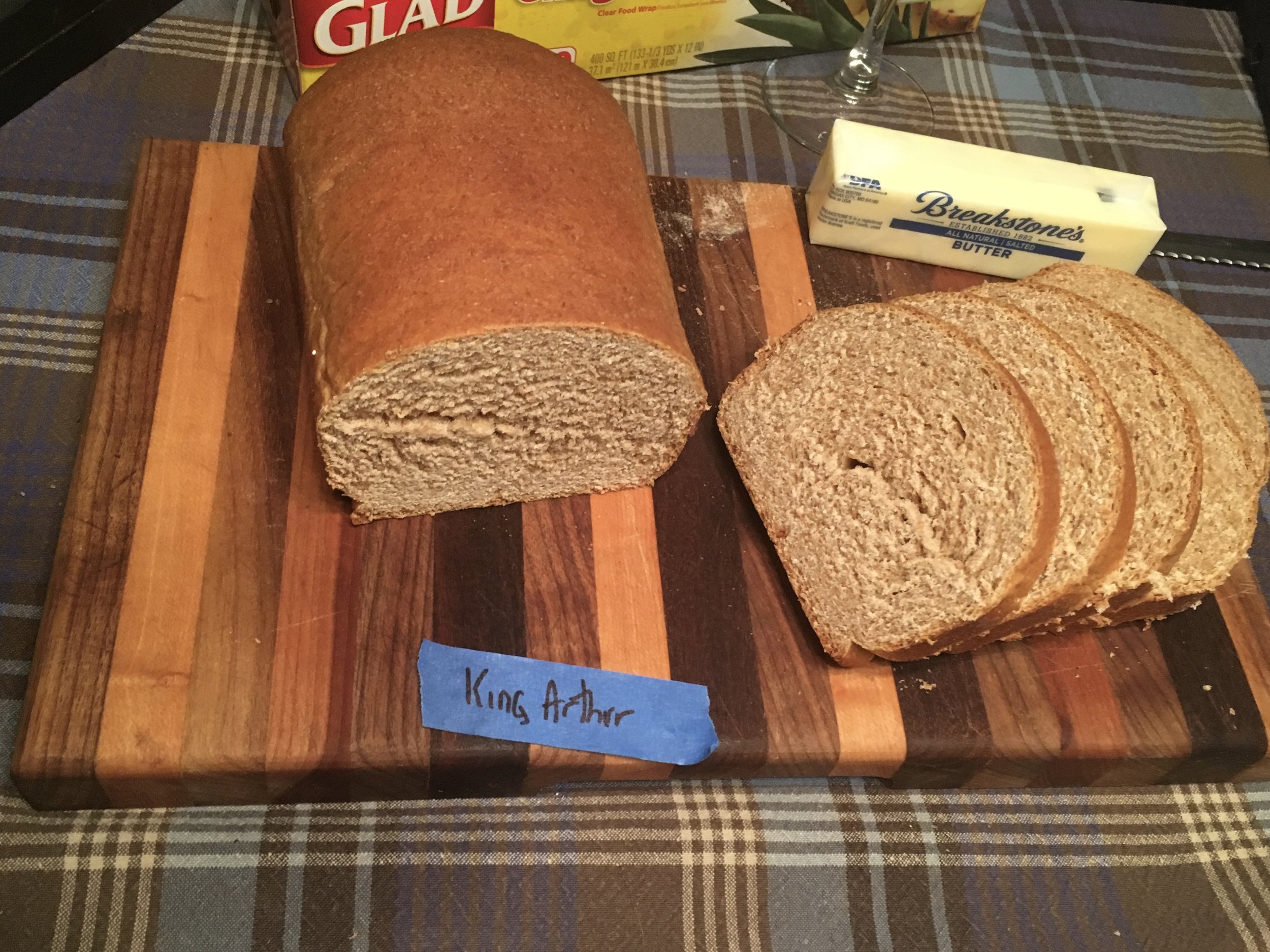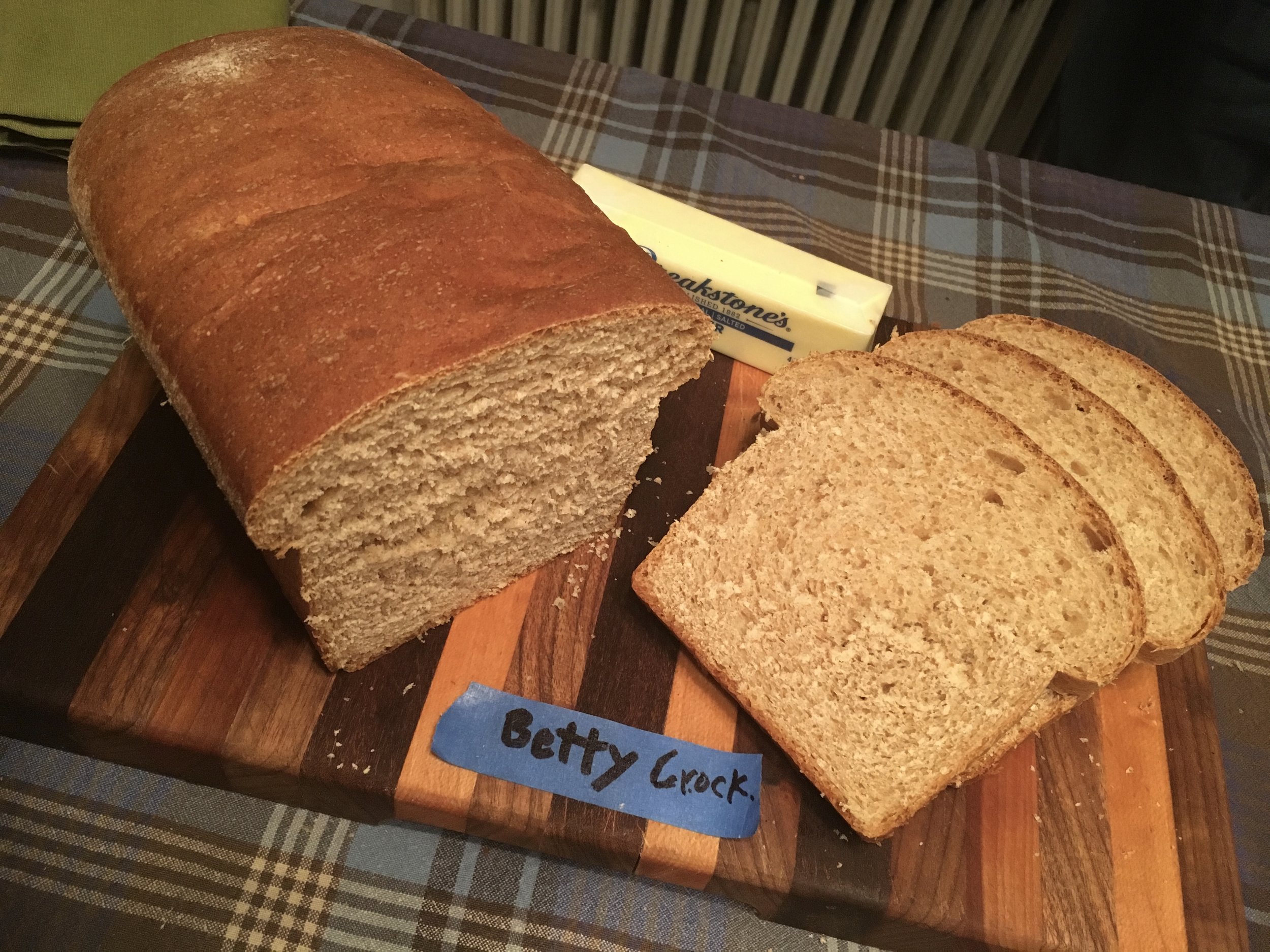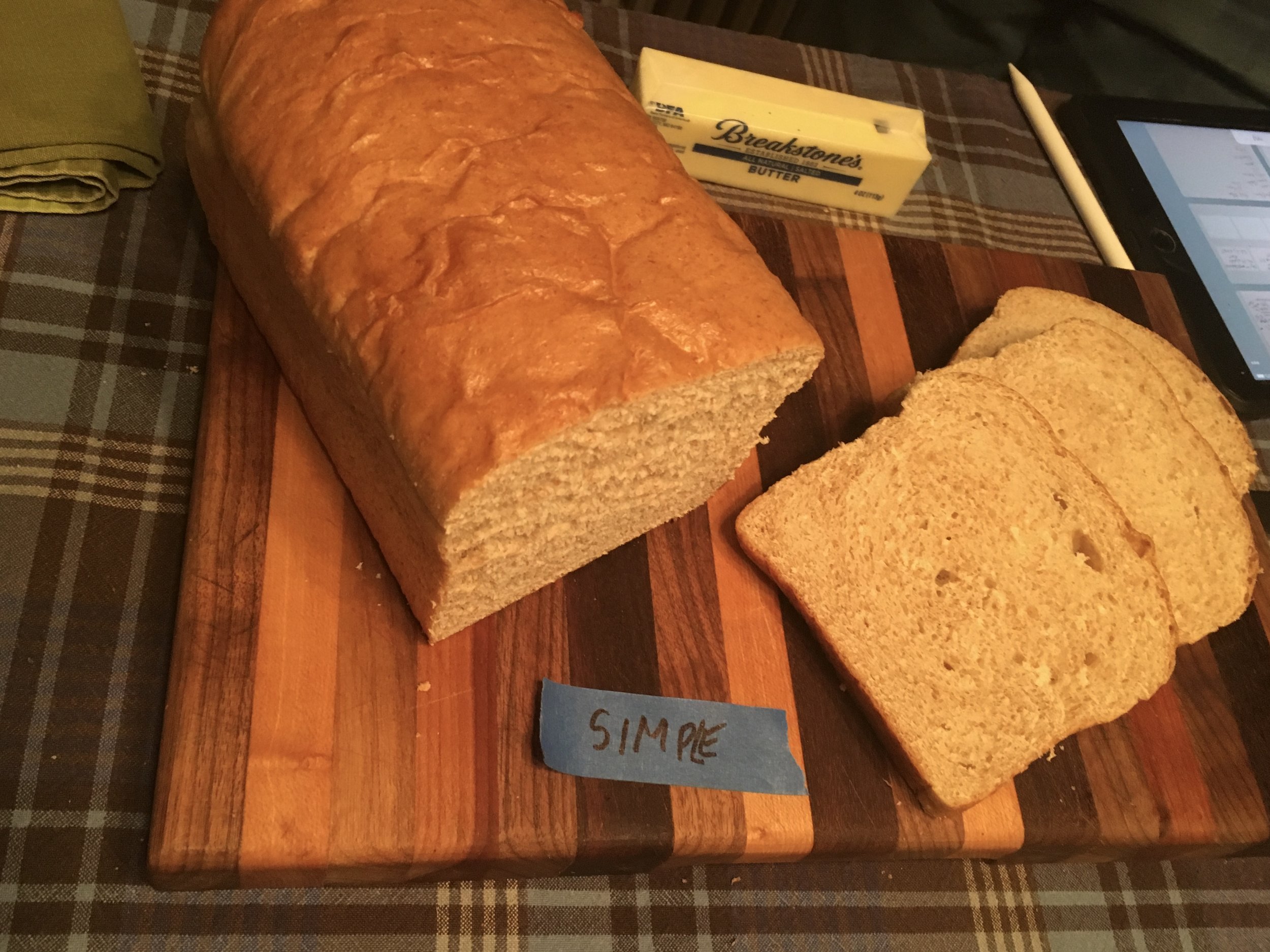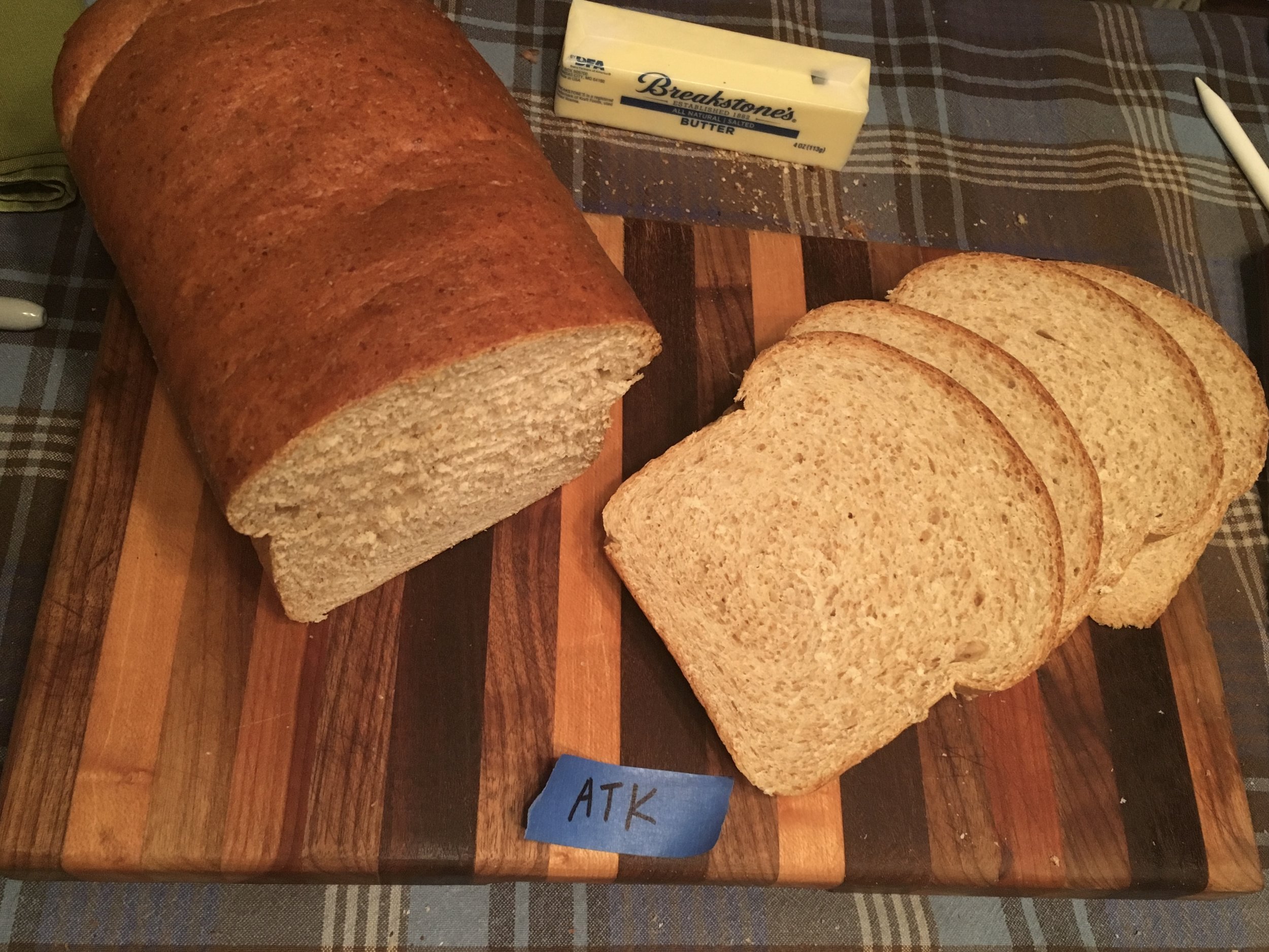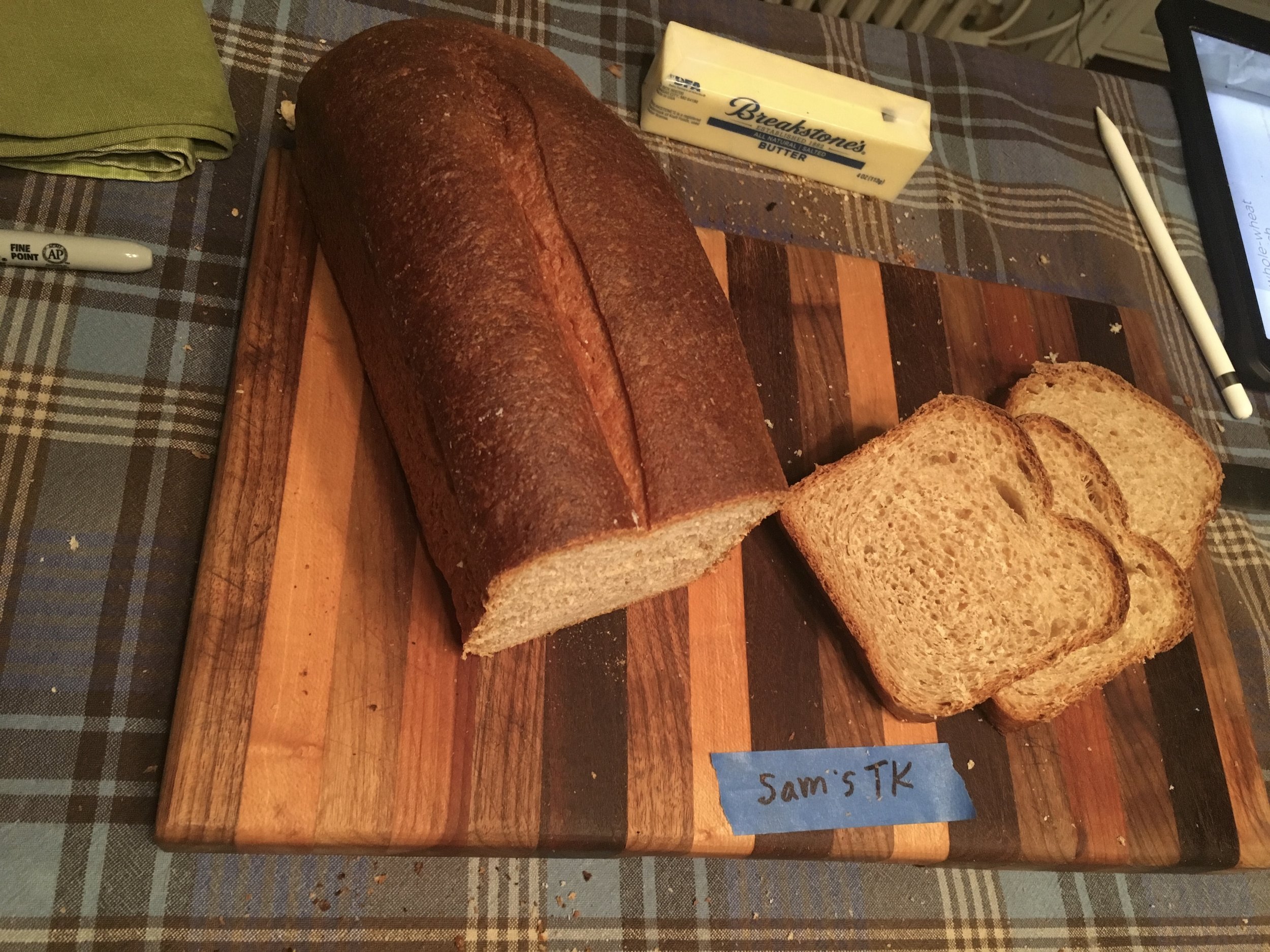 I will list the websites and titles if they had them:
100% Whole Wheat
Genius Kitchen- 100% Whole Grain Wheat Bread
King Arthur- Classic 100% Whole Wheat Bread
Epicurious- Whole Wheat Bread Hayes
Fleishman's- Beginner's Whole Wheat Bread
Whole Wheat/White Mixed (kid friendly)
Betty Crocker- Honey Whole Wheat Bread
All Recipes- Simple Whole Wheat Bread
Kitchn- How to Make Whole Wheat Sandwich Bread
America's Test Kitchen- American Sandwich Bread, Wheat version
Sam's Test Kitchen- Whole Wheat Sandwich Bread
We sliced into the 100% whole wheat flour first. I assumed that breads with 100% whole wheat flour would be heavy and dense. I remembered thinking why would anyone really want to eat that!
But we all know how 'assume' breaks down: ass u me.
Surprisingly, some of these loaves were super moist, a little sweet and very tasty. We talked about at least one of them holding up well with ham, cheese & mustard on a sandwich. Another seemed to be a perfect accompaniment for butter and jam on a cool morning. The others seemed a bit dry and a little flavorless. The toasting added some extra flavor and texture but overall these breads held up really well on their own.
Next we moved into the 'kid friendly breads', I knick-named them this because as a kid I would NEVER eat whole wheat bread- it was white bread all the way. And since these loaves had a mixture of white and wheat flours, I am hoping kids may want them because they are yummy and you don't notice the whole wheat in them.
I had very high hopes for these very bouncy Wonder Bread-esque loaves, I even saved for last the loaf I thought would be the winner.

As we cut into each loaf, my hopes for these breads started to fade. I think only one, possibly two, of the five loaves were promising. One with a 2:1 whole wheat to white flour ratio did not taste wheaty at all, so I can see a little kid eating it- or a grown-up refusing to bow to the healthy version of sandwich bread. Another had a little more sweetness, another was closer to a store bought wheat bread but mostly they were blahs. And toasting did not help much, just made the slices warmer and crunchier. These breads were the essence of a vehicle for whatever was on the sandwich.
Then we came to the final loaf, the one that I knew would sweep all the other loaves off their feet. We sliced into it and did the whole 'oooo's and ahhhhs.' I had a slice in the toaster when we started in on the plain slice. Such airy texture with great crumb and a joy to slice, turned out to be a dud! All that light fluffiness could not compensate for the cardboard taste that this 'winner' was giving off. The toasting did nothing. The disappointment of this loss threw a wrench into the victory party and the many future loaves I had planned for.
So with the favorite out of the running which was the winner?
This tasting felt more like the olympic games with a lot of countries battling for gold.
We found two of the 100% whole wheat breads were really great and ones that we would and could make in the future. One of the kid-friendly breads also was in the running and could be our go-to-somewhat-healthy sandwich bread. But in the end there were no losers, all the breads found a good home and were enjoyed by the masses.
And that failed favorite turned into some very yummy French Toast!